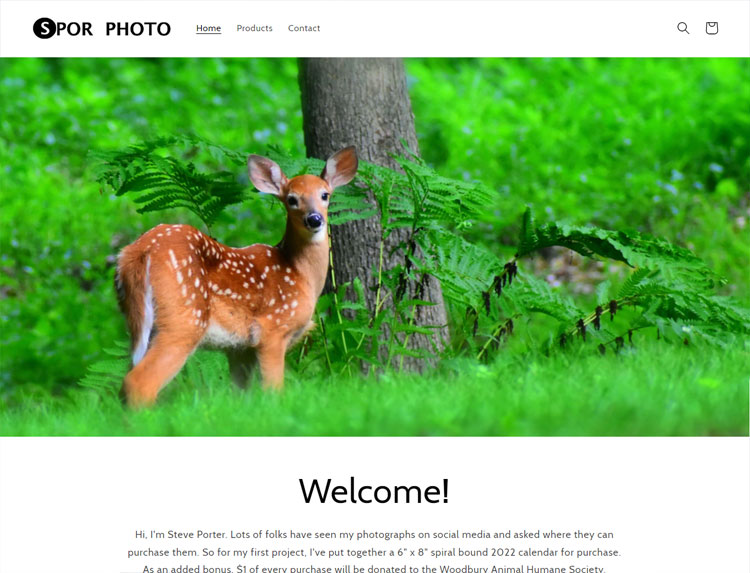 SPor Photo
Steven was referred to ICBits in 2021 by an individual on Nextdoor.com. He had been posting his beautiful photography there for some time, and many were asking where they could purchase his photos.
While he was looking for a website to sell his photography, after Michelle went through various options, he decided to start small, with one product . . . a 2022 Calendar that included his photos.
We went with the Shopify platform as it would allow him to sell both physical calendars as well as digital prints.
The site went live before Christmas, just in time for him to get his 2022 calendars up for sale. It was a huge success!
VIEW WEBSITE
What Clients Say
---
[My website] came in right on budget and far exceeded my expectations in every way.

Charlie Slater
- Owner -

I love the 'self-administration' capability that ICBits offers so that I can make changes on my own.

Bonnie O'Meara
- Founder/Owner (retired) -

...she listened to my ideas and at the end had a site up very quickly and I LOVE IT!!!

Rae Plaster
- Owner -

She finds the best option for your business and comes up with creative solutions to accomplish your needs.

Jennifer Ivester
- Owner -

One of her best qualities is the fact that she actually answers her phone! I can count on one hand the times that I've gotten voicemail.

Lisa Silbernagel
- Owner -