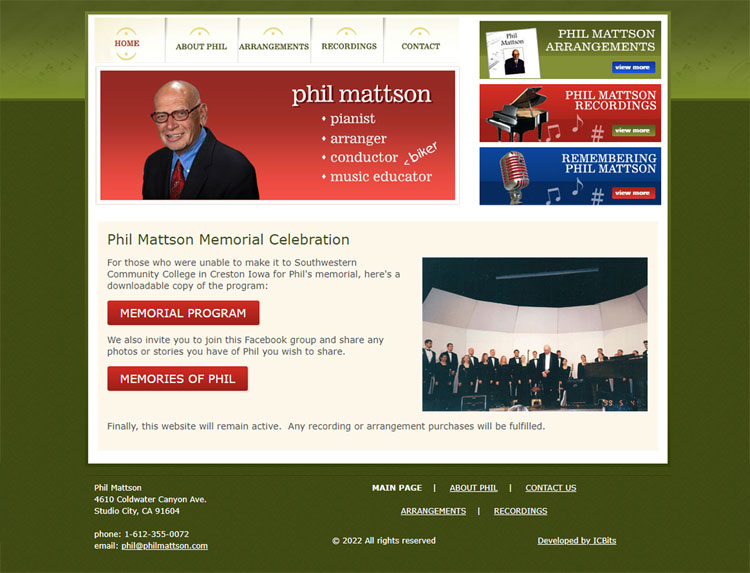 Before: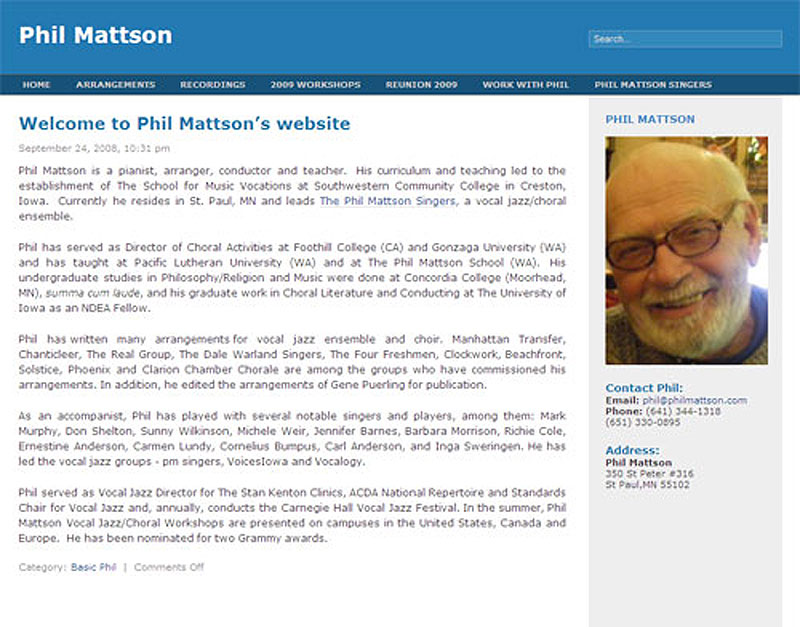 Phil Mattson
In 2009, Phil Mattson contacted Michelle to rebuild his old, outdated website. He had known Michelle for years, so she was thrilled to get the call. His current website was built in WordPress and was extremely cumbersome. Plus, it had been hacked a few times, so he wanted a change. In addition, he wanted an ecommerce site to sell his arrangements and CDs.
During Discovery, Michelle encouraged him to include images of him teaching, conducting, arranging, and accompanying groups so visitors who didn't know what he did would understand without having to read anything. He also wanted to include his other favorite past-time...riding his motorcycle.
>For many years, Phil updated basic things like his calendar of events, new arrangements and such. He also contracted Michelle to make more major changes as well as to help him promote his summer camps, a school reunion, etc. While Phil sadly passed in 2019, his son Mark has retained Phil's website as a memorial to his work and to allow educators and fans access to his music.
SERVICES:

ICBits Website / Hosting Services / Website Mgmt.
VIEW WEBSITE
What Clients Say
---
[My website] came in right on budget and far exceeded my expectations in every way.

Charlie Slater
- Owner -

I love the 'self-administration' capability that ICBits offers so that I can make changes on my own.

Bonnie O'Meara
- Owner -

...she listened to my ideas and at the end had a site up very quickly and I LOVE IT!!!

Rae Plaster
- Owner -

She finds the best option for your business and comes up with creative solutions to accomplish your needs.

Jennifer Ivester
- Owner -

One of her best qualities is the fact that she actually answers her phone! I can count on one hand the times that I've gotten voicemail.

Lisa Izarnotegui
- Owner -