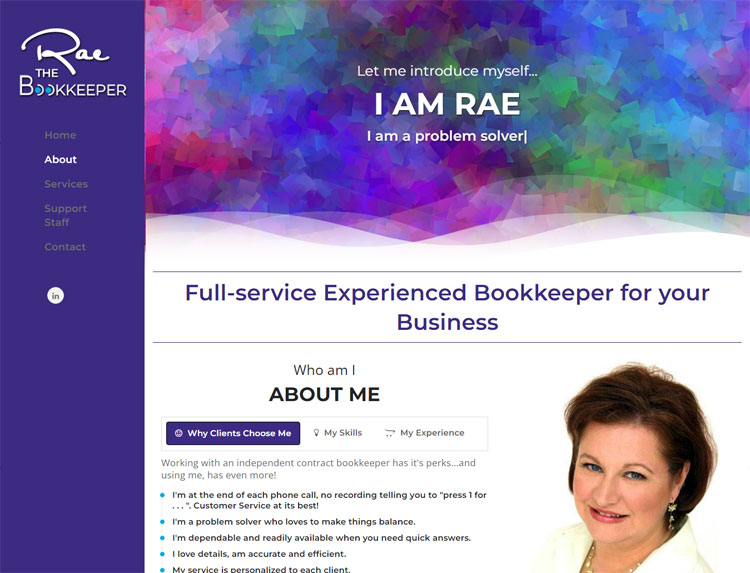 Logo: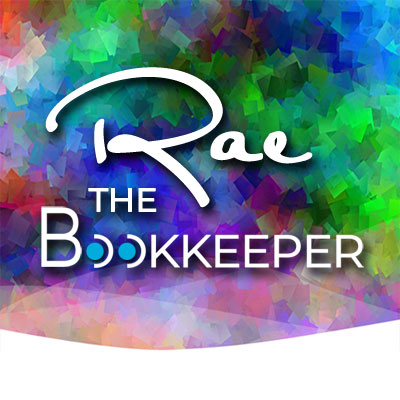 Business Cards: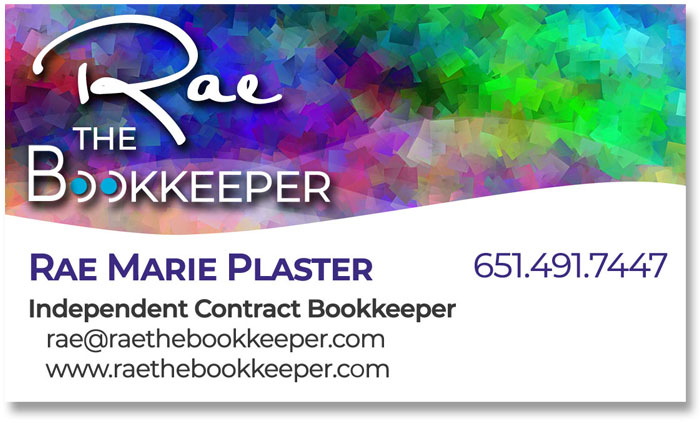 Promo Card: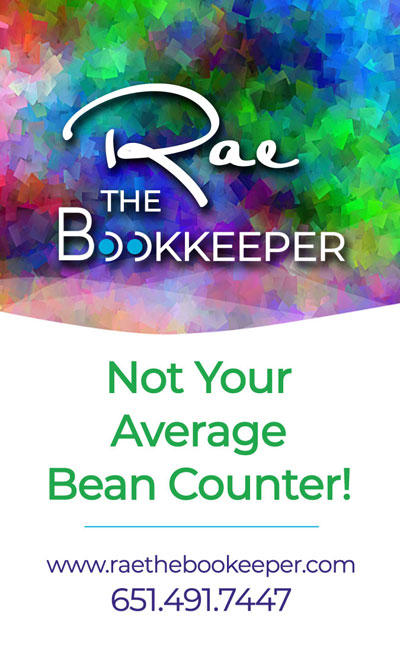 Rae the Bookkeeper - Updated
Rae has been the ICBits bookkeeper since 2010. When she decided to open her own business, she called ICBits and we got to work!
We began with a company name and branding. While she had worked with clients from all industries, her forte was the travel industry, so she wasn't sure how best to market herself. Michelle suggested she purchase two domains, one that was geared specifically to travel, and another for general bookkeeping. Thus they settled on RaetheBookkeeper.com and TheTravelBookkeeper.com.
Rae didn't want a stodgy 'bookkeeping' feel to her logo or website, instead, she wanted something colorful and fun—which pretty much matches her personality. Michelle started with her logo, sent Rae a few design ideas, and once the direction, the branding colors, and the logo were selected, Michelle began work on Rae's website and marketing materials. The end result was something that was not only fun and unique, but served multiple industries.
With two domains, the website's content management system was built to give Rae control of where content displays (e.g., either on the Bookkeeper website or the Travel website, or both).
In 2019, with her new website and business cards in-hand, Rae joined the local BNI group. This is when things really took off. We came up with various ideas for presentations, including a fun card that Rae attached to small bags of candies. Not only did Rae immediately attract dozens of clients, she was nominated and served as the 2021-2022 President of the BNI group.
SERVICES:

ICBits Website / Logo Design / Domain Management / Hosting Services / Email Services / Marketing / Website Mgmt.
VIEW WEBSITE
What Clients Say
---
One of her best qualities is the fact that she actually answers her phone! I can count on one hand the times that I've gotten voicemail.

Lisa Silbernagel
- Owner -

...she listened to my ideas and at the end had a site up very quickly and I LOVE IT!!!

Rae Plaster
- Owner -

She finds the best option for your business and comes up with creative solutions to accomplish your needs.

Jennifer Ivester
- Owner -

I love the 'self-administration' capability that ICBits offers so that I can make changes on my own.

Bonnie O'Meara
- Founder/Owner (retired) -

[My website] came in right on budget and far exceeded my expectations in every way.

Charlie Slater
- Owner -